Hello. I'm sitting at home right now after returning from a marvelous week in the wilderness of Quebec. This is the first time I am quieting myself to write down some thoughts from the trip. I have just brewed myself some tea for the occasion, the special kind with milk and honey :). It's 8pm, the evening used for working late, taking a run and starting at the weeds that have taken residence in my garden. The day was busy with the returned routine of work.. just enough into the week to realize I have a lot of catching up to do.
Just far enough into the week to start separating myself from my trip and processing the beauty of it as well.
It was a soul-searching trip for me, not necessarily intended so, but was. One that called my attention to the character of God, as awe-striking as the wild world around me, calling me to remember how small I and my efforts are.
June 7, 2016
Forestville, Quebec
When we met in town Sunday afternoon with the group and the guide we thought we were nearly there. He had written that the lodge would be 88 miles from the town so we figured we'd have an 1-1/2-2 hour journey. He let us know in Forestville that it is quite a rough path and it will take a good 2-1/2 hours to get there. We quickly checked to make sure we didn't need to buy anything else at the store and ruled out any potential trips to town mid-week. I text Travis and let him know that he might not hear from us for a week. When we drove off the main road we entered into the forest and what would become endless mountains of pines and breathtaking beauty. Our guide was being modest when he said how long it would take – Our 2-1/2 hour trip took a good part of 3-1/4 hours. Our guide, George was a highly intelligent, yet caring and quiet person. He wasn't the type to speak over someone but when he talked, he had authority and one thing was for sure, he knew everything there is to know about his prey – black bear. We stopped periodically during the trip, going further and further into the mountains. Each time George would say, how's everyone doing? It's just a little farther yet. By now the road had turned into dusty dirt paths, that required us to go 10-15 mph at the bumpy spots and I think all of us were wondering, "how far back is this place?" There were no businesses besides a power plant early on or houses besides maybe 2-3 shacks we saw off the road. We were truly in uninhabited land and I don't think I have ever been so far into the middle of nowhere. I couldn't have been happier! It started becoming more and more exciting for both dad and I! He thought of how many bear he'd see so far into the woods and I dreaming of true solitariness. We lost cell phone service back in Forestville as soon as we turned off the main road just as I had hoped. I was happy to be in nature and truly removed from connection.
When we saw red roofs in the view we knew we had finally arrived. The place looked fair in the brochure pictures but we had decidedly expected it to be less than comfortable as a "hunting lodge." We walked in and my low expectations were dismounted instantly as I observed the floor to ceiling log cabin hardwood and beautiful, warm furnishings! George was very excited to show us our room and took us up right away. It was on the second floor, overlooking the lake. I think he wanted to look out for me, being a girl with these men on a hunting trip, and the gesture was very sweet. It was at the end of a long corridor where a lovely sitting area was furnished with two swivel chairs covered in gold and ivory floral print. I thought of how much I'd enjoy sitting there in the mornings looking out the window with a cup of tea. Our room glowed with a gold cotton comforter on the main bed and a beautiful view! There were drawers to unpack in and precious little touches, like an upholstered chair in the bathroom that sent my heart singing! Wohoo!! It was going to be a great week.
The downstairs of the lodge had a large lounging area that stretched the whole length of the lodge looking out at the lake with beautiful cabin-like furnishings complete with wildlife mounts of all kinds, bear, whitetail, elk, moose, fish.
I quickly unpacked and then took some photos of the beautiful lodge and walked down to the lake. Forest surrounded us, mountains in back – what a beautiful place!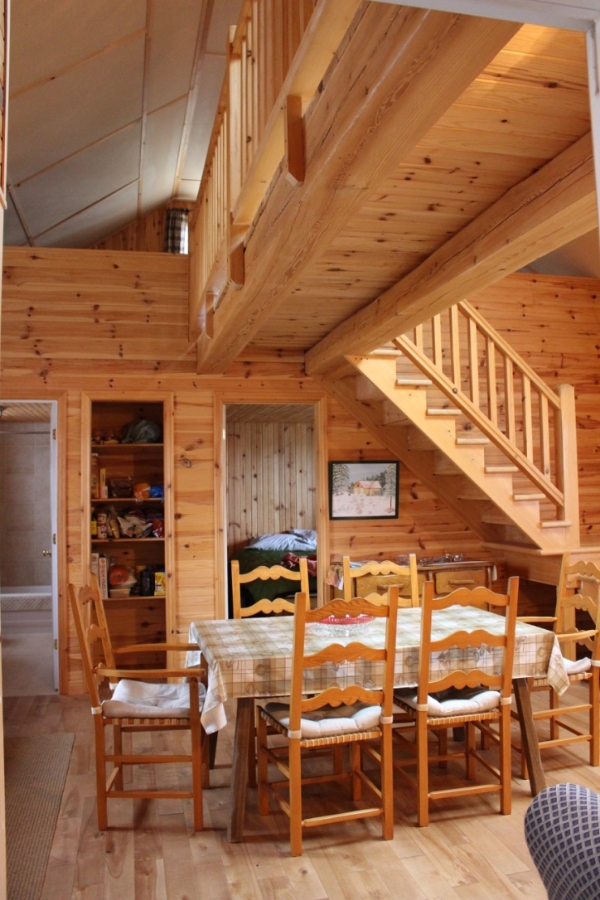 The men shot their bows and we got acquainted inside around sandwiches and snacks in the community kitchen, which was separate from the host's kitchen and dining room where we would be served breakfast and lunch. The hunting group consisted of 4 others who came as a group, one couple about dad's age who were both going out for the hunt, and two other men. I was so glad to have another lady there, she was especially bright-natured and easy to get along and I'm not sure what I would've done without her!
George introduced us to our hosts in the hallway before we saw our room, Normand and Michelle, who were French Canadians, and right away I knew that our low expectations about meals would be tossed out as well! And they were. We sat down for breakfast Monday morning, table set. They waited to start the eggs until we were seated and then plated and served us one by one. I think each of our eyes widened as we stared at the wide plates full with two eggs, bacon, sausage, grilled potatoes and two pieces of toast, made as quality and hearty as could be. George told us the accommodations would be 4-star but we couldn't quite image that in a hunting cabin in the middle of the woods. It was delicious! And so was lunch – complete with soup before the main course and dessert every day.
A pristine cabin in the middle of nowhere with gourmet chefs? Yes please. This was my kind of vacation.
It had been raining since we woke up Monday, gently hitting the cabin windows; skies overcast. Fine by me, but not the most ideal for the other 5 who would spend the afternoon sitting in the woods.
At one-o-clock, after lunch on Monday all the hunters left. They got their gear together, anticipant for their first night out, despite the rain and loaded up in pick-up trucks to go to their stands. I now had the lodge all to myself. They would be gone until midnight at least! Fine by me. This is the vacation I bargained for.
I sat down at the table in the lounge and painted a scene out the window in my sketchpad. After taking a walk and sitting on the couch with a book and cup of hot chocolate I felt like being active. Maybe a run?
So I went to Normand. He spoke the best English of the two but you still had to speak slowly and plainly to communicate with him. I attempted to explain to him that I am a long-distance runner, he thought I wanted to make a long-distance call at first, then I said – "miles, "I'd like to run several miles" and he said, "Ohh!" eyes big and unbelieving and then all of a sudden he got excited. Something came to his mind. "Yes, I have something for you!" in his French accent. He motioned for me to come to the window and pointed to the small mountain past the lake and explained a trail that would go around it and give me a view of another lake. He was still talking excitedly when he led me over to the map of the woods and pointed out two other trails, one of which led to another camp where a couple friends of theirs were just arriving for the weekend. He said, "His name is Jack, he speaks good English!" And then explained to me how to say Jack phonetically in French, "ZHOH-kuh."
I went upstairs to prepare myself for the trip and when I came down Normand had a small map for me in a plastic bag (this crew knew how to handle the elements) where he had marked all the trails for me. Michelle was there and said she'd recommend taking the one by Jack, which Normand thought would be 5 miles one way. That sounded good to me too although it was quite long for tonight, so I repeated back, "I should take this one?" She said, "Ok," shaking her head firmly seeming to say, ok you decided, but really recommending that is what she thought I should do. Haha. Love those French women.
As I started walking out they asked me how long I thought it would take and said if I wasn't back by the time I estimated they would get in their truck and come looking for me. I smiled to myself. I had made some friends.
So, I set off with a small map, a timepiece and an umbrella.
When I arrived to the little house in the woods it was the first building since I left the lodge sitting in front of another lake. It was only 2-1/2 miles in distance as opposed to 5 (he must have confused km for miles). I saw a tall, thin, light-haired man outside in a yellow raincoat working with the generator, their power was run by solar panels, and debated whether I wanted to get his attention or not. I called out, "bonjour!" but he didn't hear me. So, I walked down to the house, startling him a bit when he turned around, and introduced myself. He was a healthy looking older man, whose name indeed was Jack, with a bright spirit. He smiled when I said I was a friend of Normand and Michelle's, eyes brightening, seeming that it was quite the occasion to get such a guest out of the blue. He asked if I would like to come in for tea and to meet his wife. Rather, he insisted!
I halfway declined at first but then accepted as seems customary in these kind of situations, deciding that I had time to visit since the journey was much shorter than expected. Jack introduced me to his wife, whose name was Louiselle, a precious small brown-haired woman who smiled and then chattered in French bashfully. She chuckled as her husband explained she doesn't speak much English. We laughed together and then she kissed me on both cheeks, my favorite kind of greeting. Their little place was humble but had all the amenities they needed. It included a small wood-burning stove in the middle of the room to make heat as well as cook on, a small round wooden table, countertop, couch and separate bedroom and bathroom.
I sat down with them for nearly an hour chatting and laughing together as we got to know each other and made connections about our shared love for the wilderness. I decided that I had to be off and on my way around 8 explaining that I told Normand and Michelle I'd be back by 9. They agreed I should leave now.
They inquired if I had any protection on me for the bear? I hadn't brought anything as George, the bear expert, assured me I didn't need to be worried, black bear don't pose much of a threat to humans, they are more afraid of them than anything. I could sense the concern though when I denied their suggestions, "a knife?" "a whistle?" (black bear don't like loud noise). This was the same protective treatment I'd received in every country other than the states. Different from the independent nature I had been brought up in, but endearing all the same, so endearing. They sent me off with kisses and said that I could just sing loudly to keep the bear away. :)
I tried to remember what George said on my way home, I really wasn't worried <insert smile to myself> but it was dusk and this was my first venture out. I thought to myself, what the heck would I have done with a knife? Haha.
I made it home unscathed with several more hours left in the night until the hunters would return at midnight.
Day one of the beginning of a marvelous week. Which later introduced early morning canoe trips alone on the foggy lake, more long hikes, cups of hot chocolate, good meals, fishing, bonding time with the great group of people with us, four-wheeler trips out into the woods with the guides, bear searches and many celebrations of shots by the end of the week. All 5 hunters filled their tags and my heart was incredibly filled.
I will be sharing snippets of the trip on Instagram this week if you want to follow along and posting the full album on the Beauty page above.
Thank-you for following along. I wish you would've been there with me.