Do you ever stare at your closet, packed full with clothes, and think to yourself, "I have NOTHING to wear!" Yeah, me too.
Hello again! Just want to say thanks for stopping by, I love the loyal community that has gathered around this blog and want you to know that I appreciate each person that stops by. I posted on Sunday about my spring capsule wardrobe and today I'm going to share with you the outfits I chose from it as well as some tips on creating outfits from your wardrobe.
This time around, I decided to take the time to pick out and try on outfits within the pieces I chose for my spring capsule. Though, I found it incredibly inspiring, in my last capsule, just to see the pieces together, I still struggled to make use of all of them! Creating outfits ahead of time has been incredibly helpful for that.
How To | First things first, carve out some time, when you don't feel rushed to make your outfits. The Goal | If you have a capsule, the goal is to incorporate each piece of your wardrobe into an outfit. If you don't, your goal should be having 10-15 outfits arranged for the season (including Sunday and date-night or evening wear).
1. [Choose one staple piece and style it] Start by choosing one of your staple pieces or tops and add pants, shoes, scarves and accessories until it feels complete. Don't get me wrong, I could wear soft jeans and a solid tee EVERYDAY! Mostly because I feel good in it but also because it's convenient. So, if I have great outfits picked out and ready to go in the morning I love it just as much! Creating outfits is for the planner in me; I need easy! A great rule for making an outfit look complete AND sophisticated is the Third Piece Rule. Using this rule, every outfit should include a top and pant (or dress), which are your first and second pieces and then the third piece is an extra outfit element like a vest, blazer, sweater, cardigan, statement shoes or jewelry, scarf, etc. Making sure that you have that third statement piece will add the final touch to your outfit! Try it, I think you'll love it! For inspiration and help finding "your style" I definitely recommend browsing through Pinterest. And men, here's a little special help for you - Men's style!
2. [Take a picture] Take a picture of each outfit that you put together and love. I used the forward camera on my phone and set it on top of a full mirror using the self-timer setting; whatever works for you! If it's easier for you to take a picture of the clothes on hangers or on your bed you can do that too. I would recommend trying each of the outfits on though, as it is detrimental to see how it fits together on you and how you feel in it! I would also recommend taking the pictures on your phone for easy reference, unless you'd like to print your pics out!
3. [Make multiple outfits from basics] For basic pieces, like your favorite white button up, you can style them 4-5 different ways for as many different outfits! Take a picture of each. This is the beauty and ultimate goal of a cohesive capsule wardrobe; to love your pieces and use them multiple different ways!
4. [Repeat until you finish] Do this with each staple piece and try to incorporate each piece of your capsule. If you end up not using a piece, it may mean that it's not a fit for you anymore or at least not in this season and you can put it back in your closet or recycle it. Most likely you'll find more than enough outfits in your closet that you love, because of a renewed vision of how to wear it! However, if you are still at a loss, it may be time to go out and grab some really great pieces that you love! See my post on Creating A Capsule Wardrobe for tips on buying quality and cohesive clothing.
5. [Create an album on your phone for reference] Place your outfit photos in a separate album on your phone for easy reference. You can look at this each evening or morning as you decide what to wear and know that you'll look fabulous because you already have a complete outfit! Some people enjoy picking out their outfits for a week at a time. If you want, you can also create a rotation for your clothes or check off the outfits when you've worn them (mentally or on paper) so that you can make sure to use all of your outfits throughout the season. I ended up with about 15 outfits, so I hope to wear each at least 6 times in the next 3 months. :)

My Outfits
Please excuse my amazing modeling and studio skills. :)
Variations | In Ohio it is still very much winter at times in March and though it warms up, long sleeves can be needed until mid-May. In creating my outfits I created some variations for some of the warm-weather outfits to be suitable for winter as well. You can see these variations in the above photos.
Styling Basic Pieces Multiple Ways | In the how-to above, I talked about creating several different outfits out of one basic piece. Here is an example of how I did that with my black and white stripe top.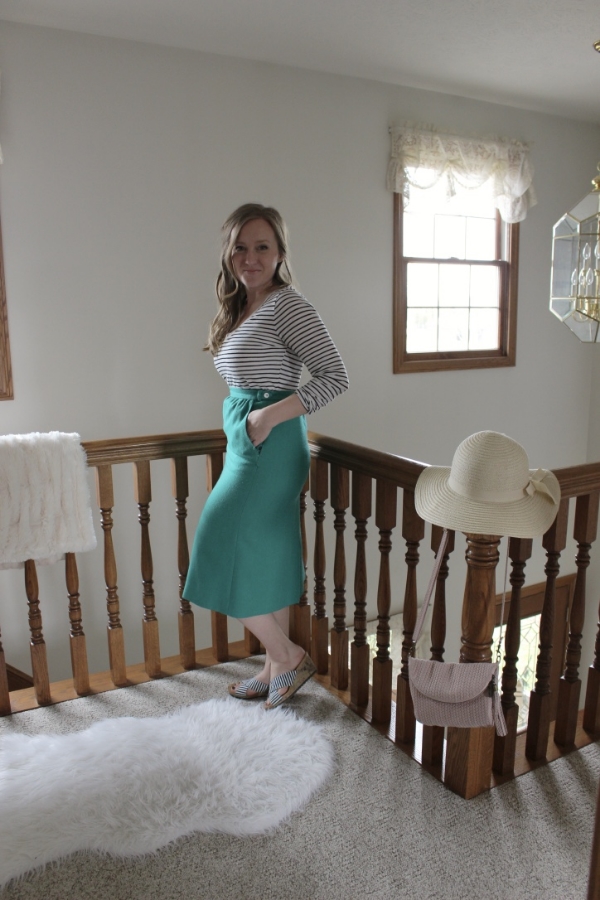 I hope you enjoyed this and were inspired!
If you need me, I'll be wearing my floral skirt.
Email subscribers: Have you noticed how much better the email format is!? Thanks to my amazing friend Jenn, who is my go-to tech girl, the blog you read in your email better emulates what you experience here.
Unfortunately slideshows and galleries don't translate into your email so you will see all the photos in a stack. If you ever want to read it here instead of there, just click on the link at the top of your email that says, "view this email in your browser."
I cherish you email people! All my love!